3. WHERE - Merimbula Bar, about 500 km south of Sydney near the SE corner of Australia in New South Wales
WHEN - Christmas Day 2004
WHAT HAPPENED?
From:
http://www.reelaffair.com.au/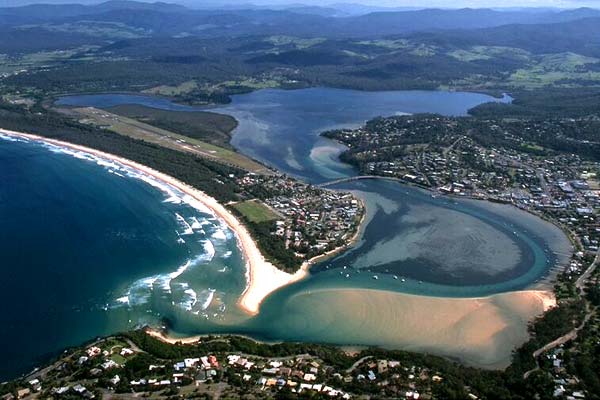 A view SW across Merimbula Bar
From:
http://www.tilbavalleywines.com
Two people were being flushed out to sea in a two man inflatable boat by the strong tidal outflow running out from Merimbula Inlet. The asian passengers had limited English and were suspected to be poor to possibly non-swimmers. A fairly heavy sea was running with a 1 to 1.5 m swell and southerly winds 20 to 25 kts. A variety of kiters were setting up at this popular riding spot at the time.
The launch at Merimbula Bar.
From:
http://www.traqua.com
An unidentified, well experienced kiter approached the boat about 200 m offshore from the mouth of the inlet and picked up a line off the boat and towed the two people back to the shore. The rider planned in on his board as he played tugboat.
WHO is our able kiting hero? We don't know but thanks mate and WAY TO GO!
Also, sincere thanks to farqueue for bringing this incident up on kiteforum.com at:
http://www.kiteforum.com/phpbb/viewt...asc&highlight=
I understand that farqueue is going to write an account of this action for the local paper. Action, not just talk ... you gotta love it!
Another blow struck for riding free and at will!